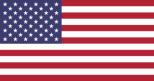 Long Haul Rail Freight Carriers in the
United States of America
A long double-stack container train of BNSF headed by four 4400hp Co-Co diesel electric locomotives
descends from the Tehachapi Pass, between Caliente and Bakersfield CA.
These pages deal with the contiguous United States of America, namely 48 states and the District of Columbia. For the remaining states, and other areas of particular railway interest, see the Main Index.
Freight railways in the USA are classified according to revenue rather than physical extent. The largest carriers, known as Class I Railroads, all cover a significant portion of the country and can therefore realistically be described as long haul. Other railways, Classes II & III, are sometimes known collectively as short lines; this is something of a misnomer, as some of them operate quite extensive regional networks. For these, see Regional and Local Freight Carriers.
This page lists all the present day Class I Railroads of the USA, together with other railways that are conveniently included here because of their size or extent. For each railway, a list is given of the states it serves.
Don't recognize the two letter state code? Try hovering the mouse pointer over the code in question. In most browsers this will bring up a tooltip with the full name of state. Alternatively, see the complete list of state codes.
© 2007-2022 Glyn Williams
Photo image by Kabelleger / David Gubler from Wikimedia Commons