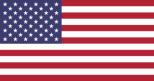 Regional & Commuter Rail Passenger Services in the
United States of America
A Brightline inter-city train at Fort Lauderdale station, FL.
Locomotive 110 is a Siemens SCB-40 Charger 4000hp Bo-Bo diesel electric.
These pages deal with the contiguous United States of America, namely 48 states and the District of Columbia. For the remaining states, and other areas of particular railway interest, see the Main Index.
The regional & commuter rail services in the United States are characterised by their essentially local nature, usually centred on one or two large cities. "Local" in this context can involve considerable distances, but the type of service offered is essentially different from the long distance services offered by Amtrak.
Most of the railways concerned receive state or municipal support. Some have dedicated rail lines, though many share lines with freight carriers. They are distinguished by their heavy rail nature from purely urban forms of rail passenger transport; the latter are included under the topic of Metros and Trams.
Northeast
Southeast
Mid West
West Coast
Mountain Region
Texas
© 2007-2023 Glyn Williams
Photo image by Patrickhamiltonbrightline from Wikimedia Commons